Olga's watercolor painting sessions LIVESTREAM & REPLAY
Join fantastic livestream watercolor painting demonstrations and enjoy watching Olga paint in her favorite medium watercolor! Please, book earlier. There are a few days to book a date.
Your Instructor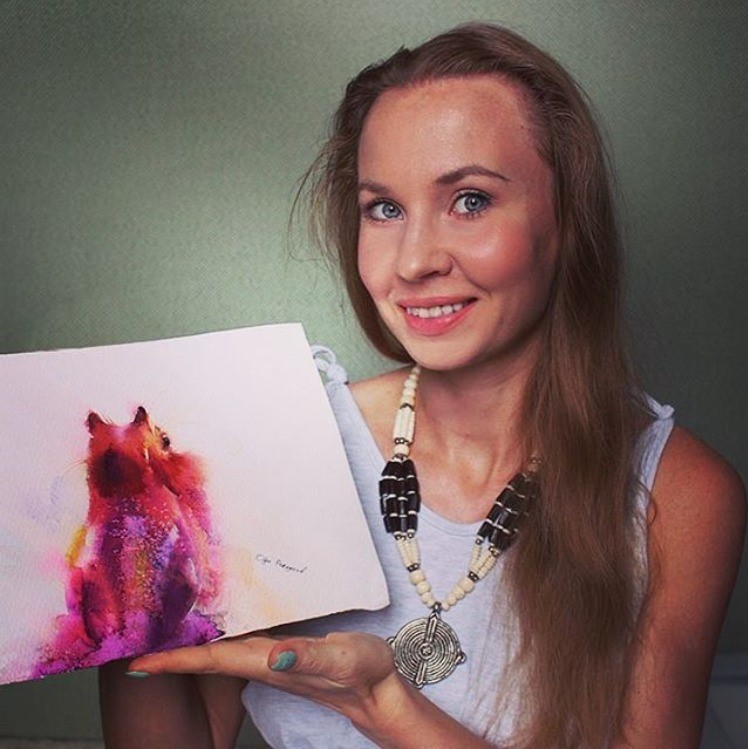 I help people to escape into enjoyment of painting
To make the viewer of your paintings be b-b-blown away...
It's not about brushmiles.
It's not about having a strong talent.
It's not about painting arsenal.
You must deliver what they want
You can paint with opposite hand. You can spill your cup of tea on your painting...
...But if you forgot about intrigue, illusions and how viewer mind works, you are ordinary not extraordinary artist
I'm Olga. Originally from Belarus live in Canada.
Doing science (not art) with water, color and paper. Responsible to teach how to hold on air while painting.
I help lost, tired, bored artists to breathe a fresh air, paint non-stop, paint with confidence, style and freedom and do it gracefully using my gentle sleep talk down feminine voice.

I always painted. No matter what life brought me school, university web-designer carrier, own publishing company I felt like I was doing stuff which keeps me away from painting what I love to paint.
I had a few hints

I was called to. My 1st painting was sold when I was 5. My friends make a fair and took some of my paintings for "assortment"
In grade 1
in first day our school art teacher took a look at my painting journal which was laying on my desk. She ask one question "Is it yours?" and imidietly took it away. Next day there was my first solo exhibition at school.
In grade 11 [ final ]
me and my friend were asked to replace art teacher for grade 6. I was staying in front of sea of curious eyes and I look at my friend like "What now?" and she look back like: "Go ahead! We escaping school today!" We hold one day replacing teacher in all classes. After all "my students" followed me like they were my dogs. Thankfully it was last week before we finish school. I was convinced it's quite challenging to interact with people in this way 😆
Holly, Internet!

I'm blessed to live with my family. I'm animal lover, flower girl and innocent child. I live far from home and escape from loneliness being in other country by painting
Class Curriculum
The Summer
Available in days
days after you enroll
Replay. Day 3.
Available in days
days after you enroll
Replay. Day 2.
Available in days
days after you enroll
This course is not open for enrollment.